On the Food Network show Chopped, the judges like it when the chef's stick up for their questionable dishes. As I look back on this I realize I would be walking down that long hallway of knives after serving this up.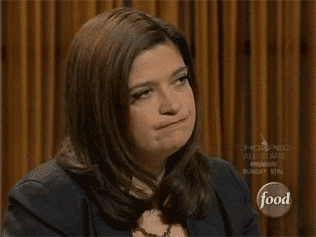 That being said I would never attempt to share this with anyone because... it's not pretty, presentation is lacking and of course creativity is at amateur level. For that matter I'll probably never make it again but for a vegetarian solo girlie pasta chance encounter with roasted squash, I want to tell you it was super satisfying and kind of awesome in a nutty sweet way.
Basically it was mashed up roasted acorn squash, shredded leftover chicken and a can of Cream of Mushroom Soup with chicken stock and red pepper flakes on a bed of garlicky pasta. And really, sometimes you just have to eat and its a bonus when you don't waste any food. But I was surprised at how much I enjoyed it.